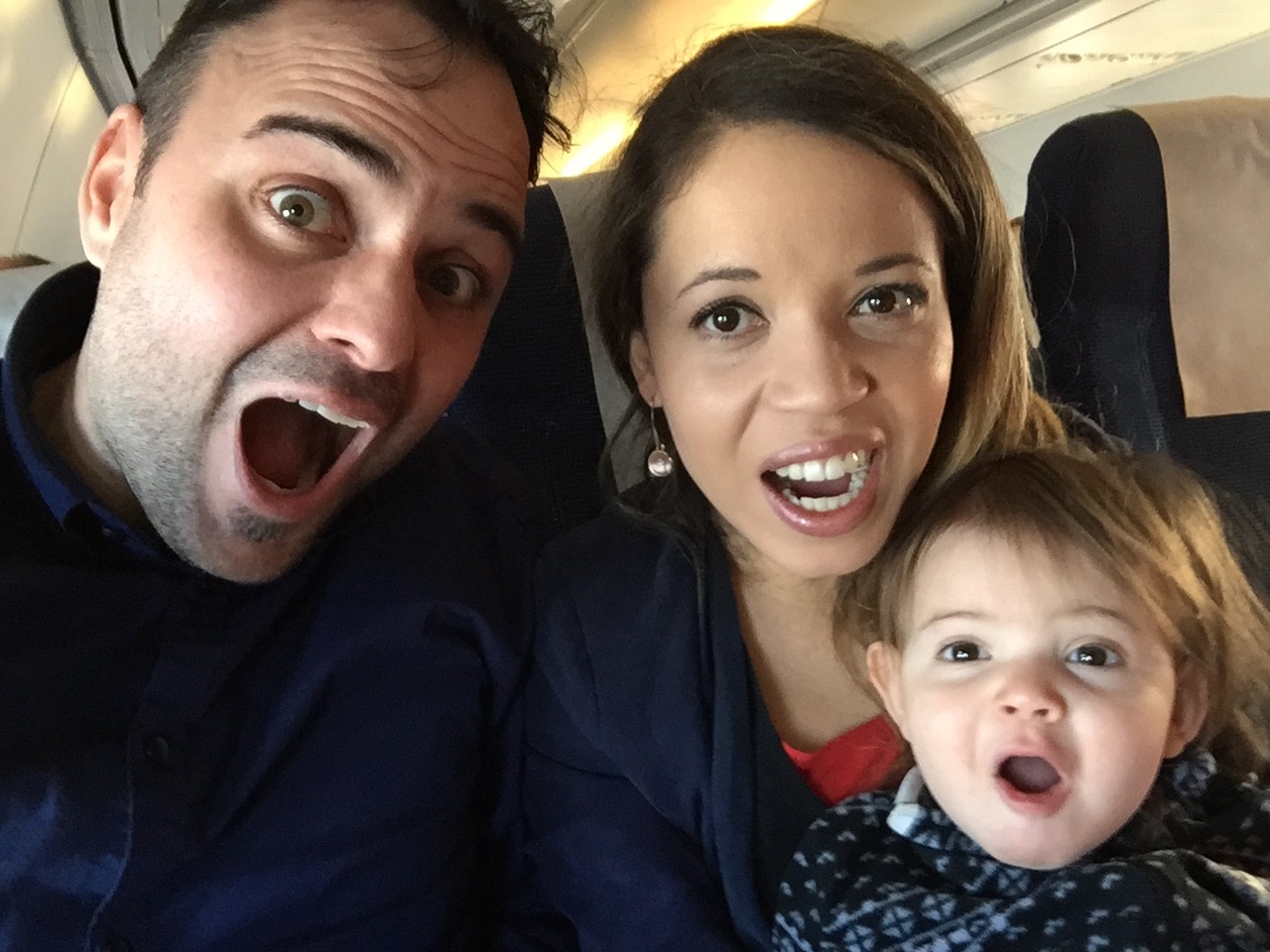 If you follow us on Facebook and Instagram you might have seen that we just arrived from the beautiful Bodö. This is the second post. The first planning part you can find here: Bodö Trip Part 1.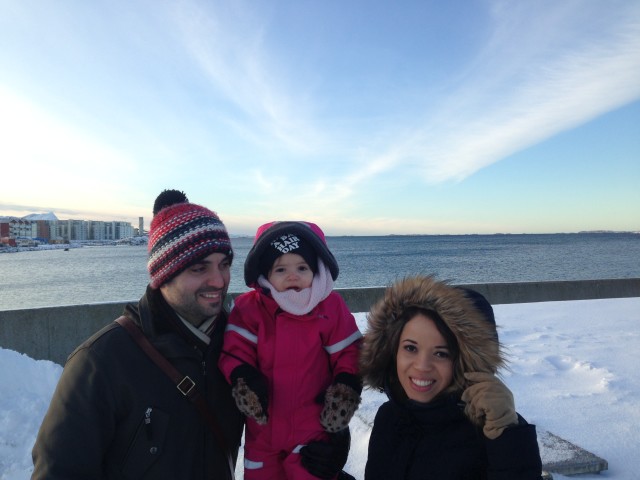 We went for a weekend trip to Bodö in Norway to get extra Eurobonus point in SAS Eurobonus winter challenge and we also wanted to try as many lounges(we tried 5 different) we could so here is the review about them. I booked a SAS Plus ticket where Fast track, Priority boarding, SAS lounges and snacks are included on the airplane. You also get more points for the tickets than the cheaper tickets. Fast track means that you have a special line to the security control. It was no queue when we went through the security controls so this had no value for us this time. Priority boarding means that you can go on the airplane first and don't need to wait in line. I really like to get in and sit on my seat before everyone gets in and it gets chaotic.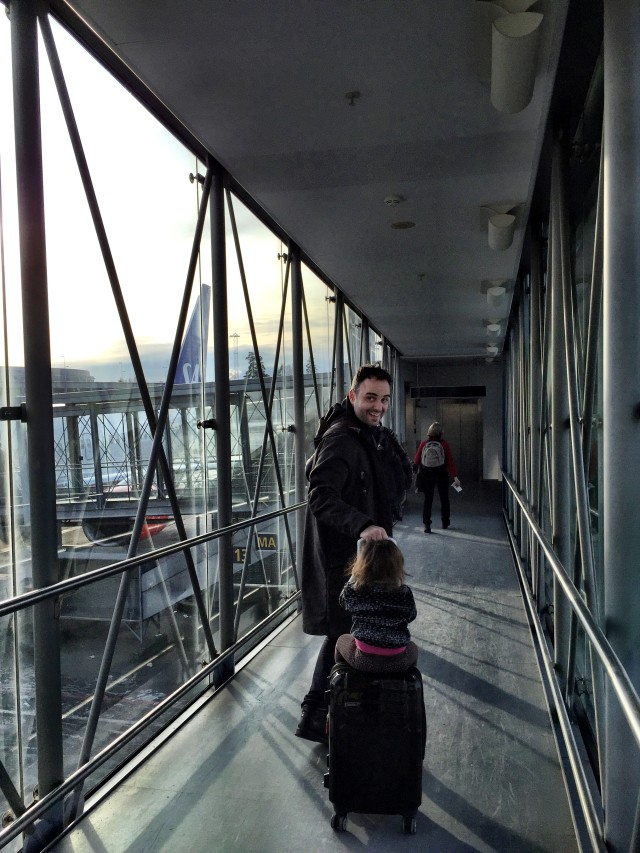 So my recommendation is that if you have time to get in the lounge, want some snacks on the airplane and the price difference is not so big then go for the SAS Plus tickets!
Friday is Travel day! So this is how the day was planned and what was really happening!
We took a taxi at 06:00 from home to Stockholm Arlanda airport (ARN). It takes 40-45 minutes from Stockholm to the airport Arlanda.
We arrived at the airport in time and walked directly to the security control so we could go to the lounge that is located in Terminal 5. We skipped the breakfast at home to eat here instead. Good idea, right? We had more than an hour to relax in the lounge. The lounge was nice decorated with a clean design. There were a lot of tables and not many people. Good to relax before take a few flights.
When we came here it was just 5-6 people there, but more people came after a while but it was never crowded.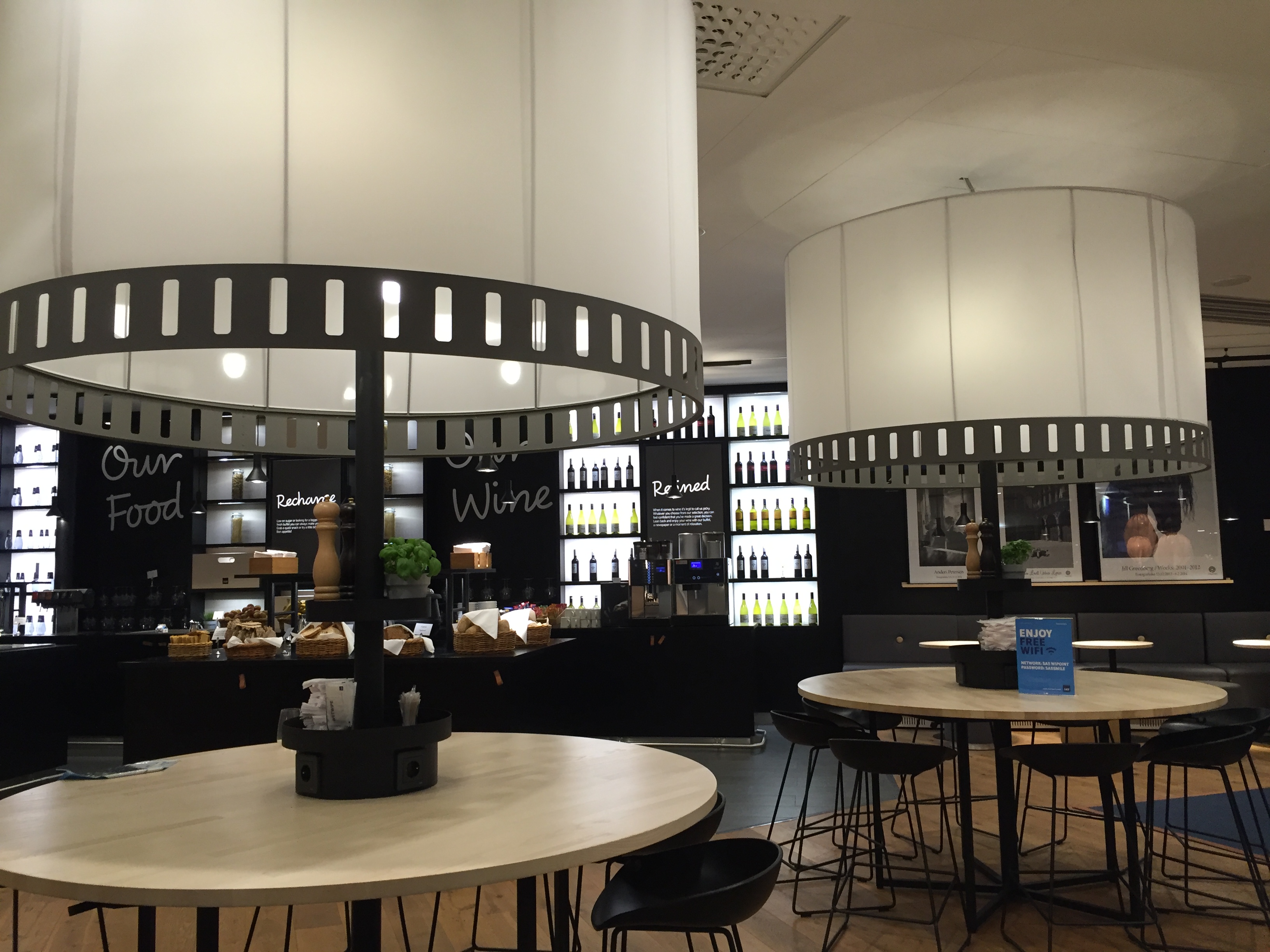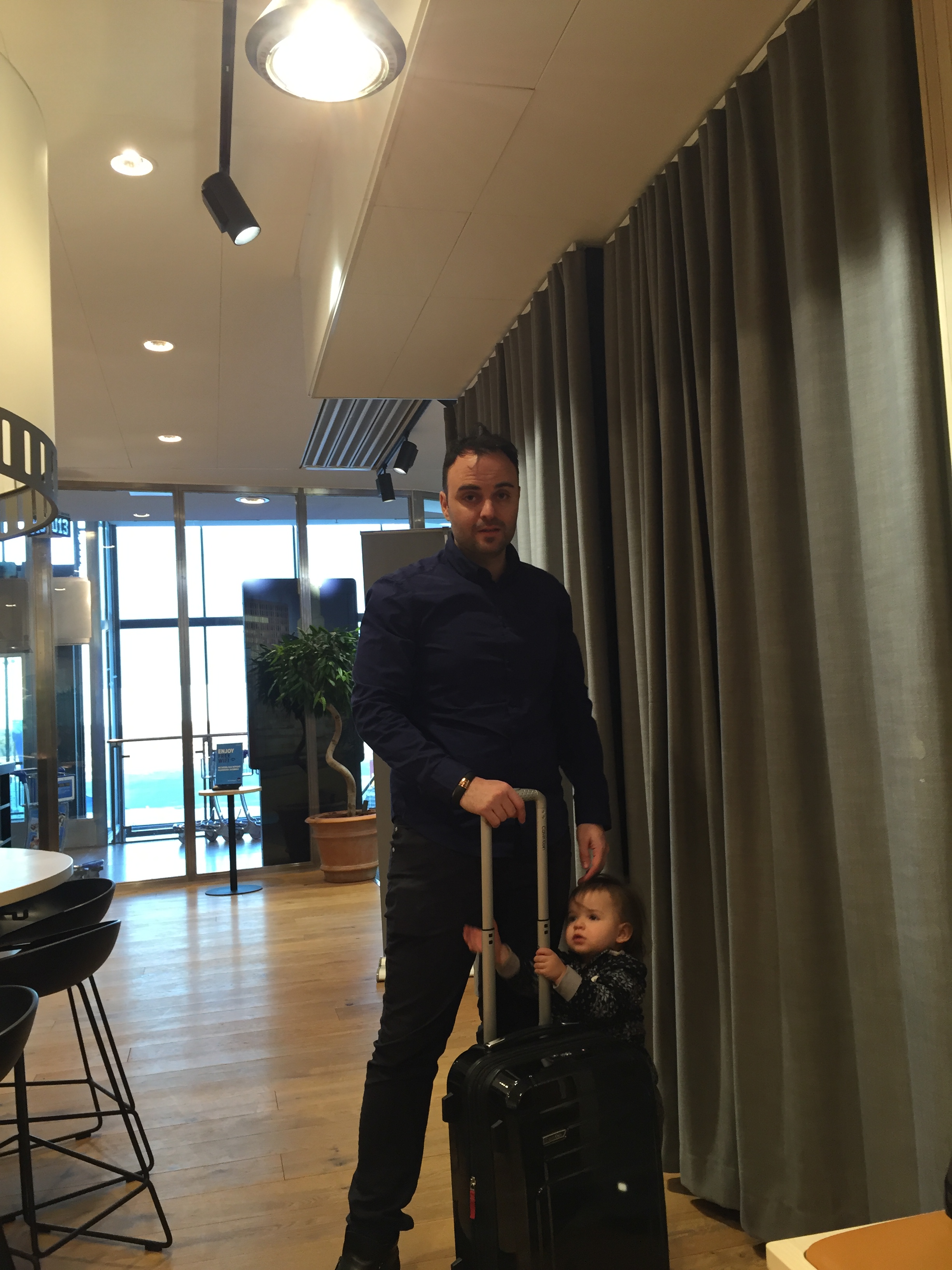 Nicole had a playroom to play in. She really liked it and we too. You know how it is to travel with a 1 and a half year old. So it was perfect!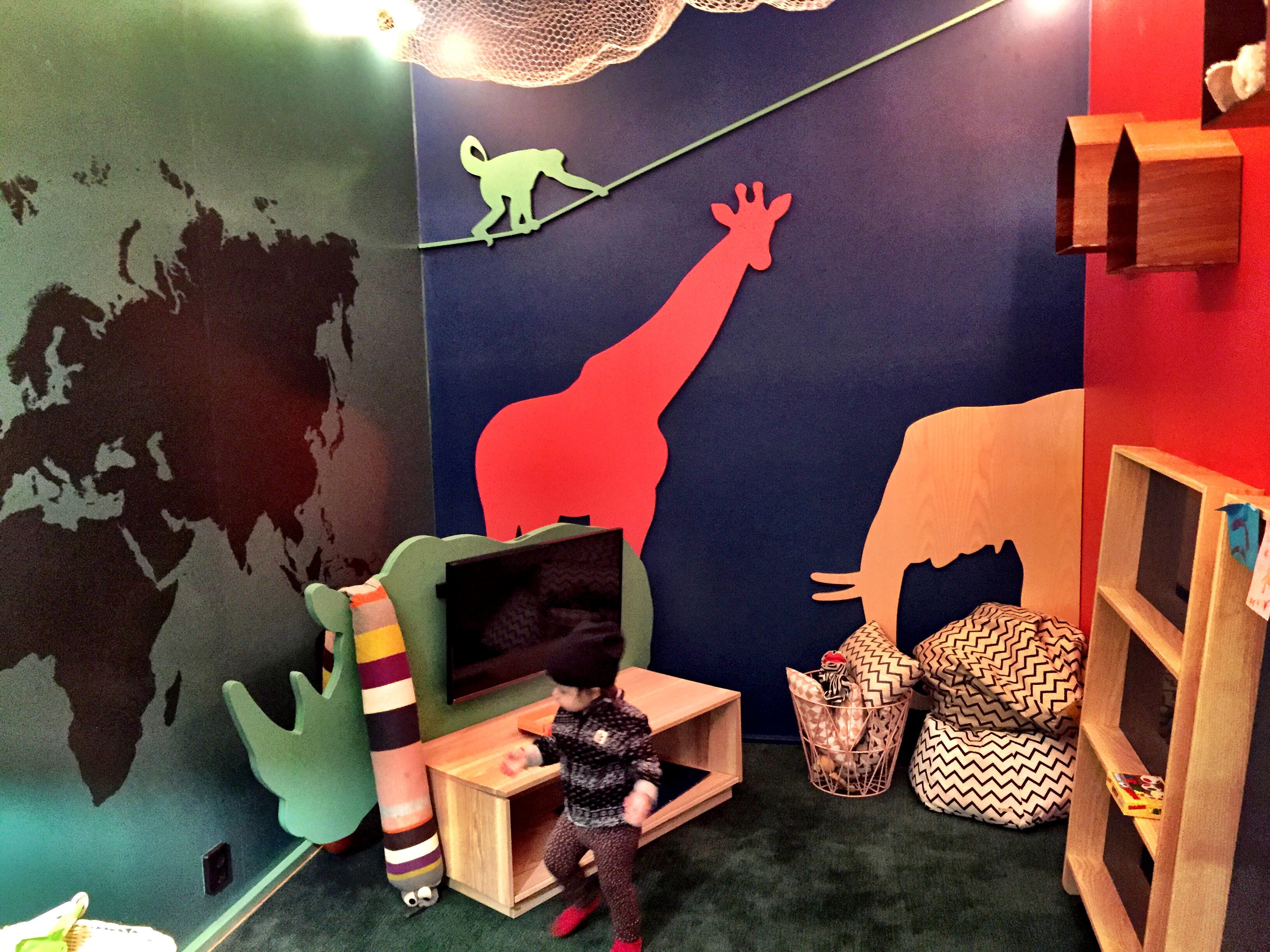 We took a sandwich and some eggs for breakfast. For drinks we took smoothies, coffee and after a while I took a beer and Gi took a glass of wine. The food and drinks is always included in the lounge. Nice to sit and take a beer but the food was not so good here and didn't have so many options. I rate the lounge a 3 of 5.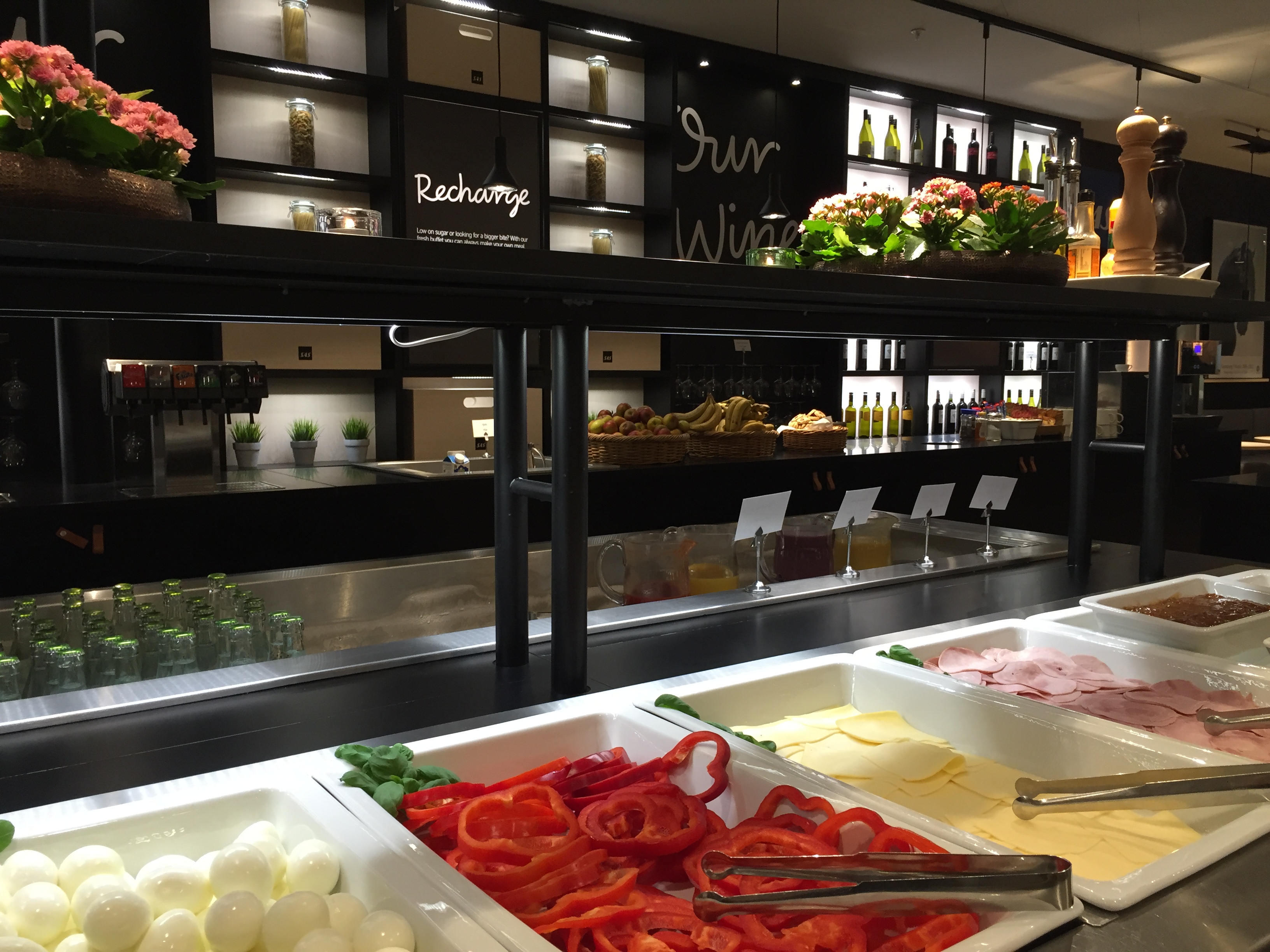 They have good options of juices and smoothies. Nicole had tomato juice and she really liked it!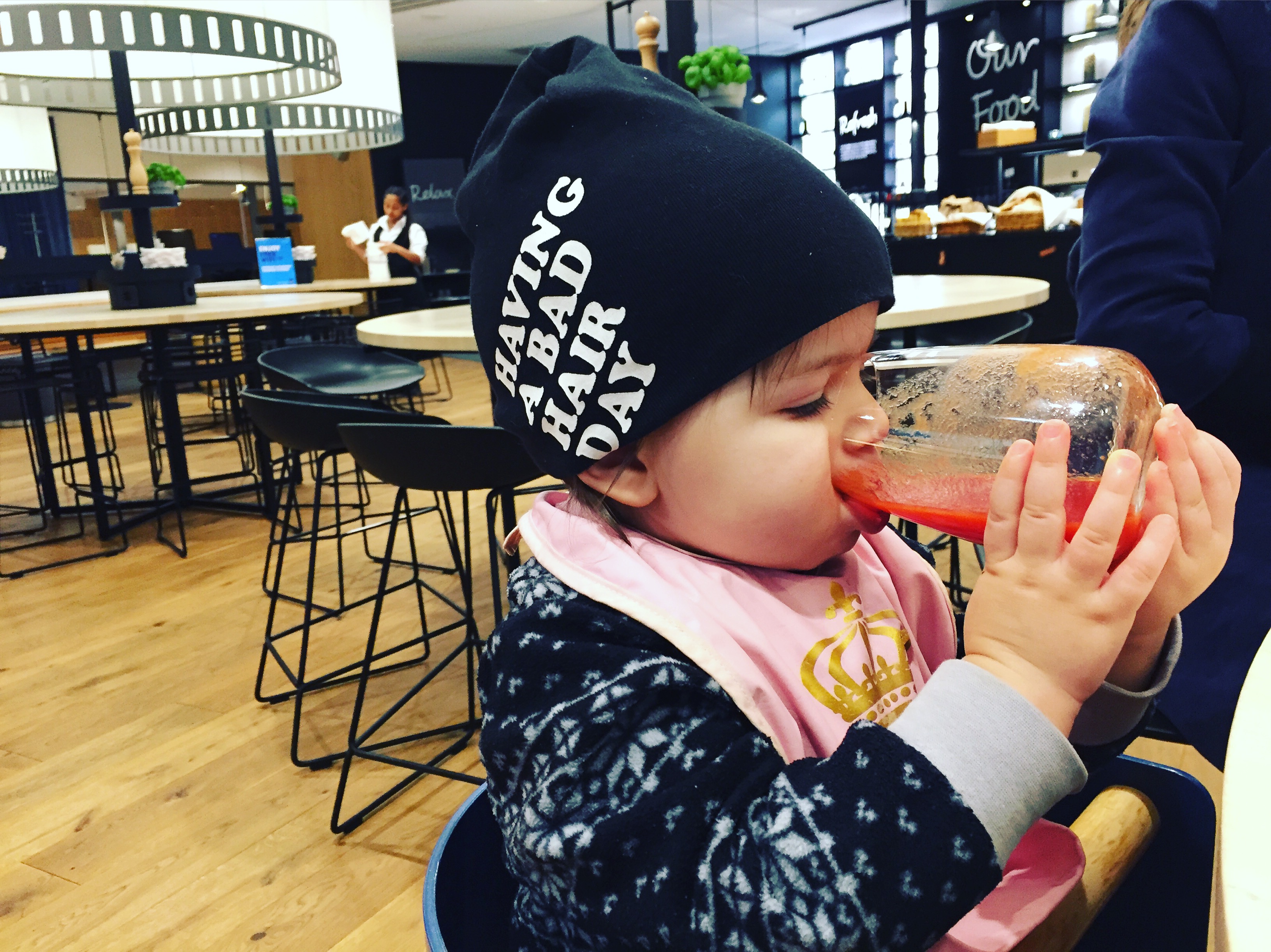 It was nice to sit in the lounge and relax before going to the gate. A few minutes before 09.00 it was time to go to the gate. The flight to Oslo was planned to go at 09:20. 
I had reserved the first row on the plane, because I like the extra leg space. Its also easier for Nicole to walk around in front of us. We where happy to start the trip now!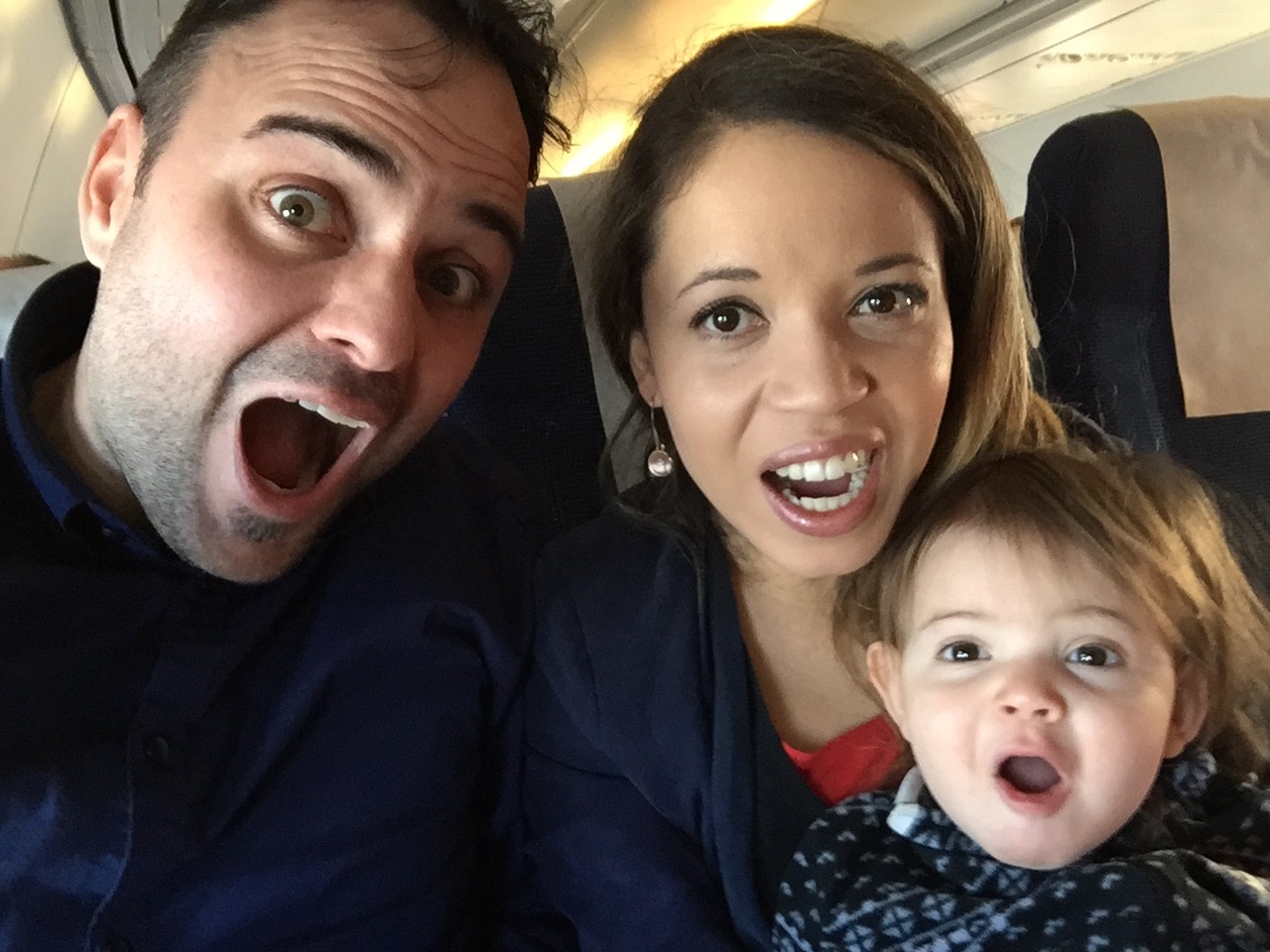 It was not so many people on this flight. Not even a third of the seats was taken.
SAS flight almost empty
After the takeoff they started with the serving. On flights in the Nordic countries SAS just serve snacks. In SAS Plus the snacks are included. So we took Cashew nuts, beer, wine, smoothies and chocolate. This flight is just one hour.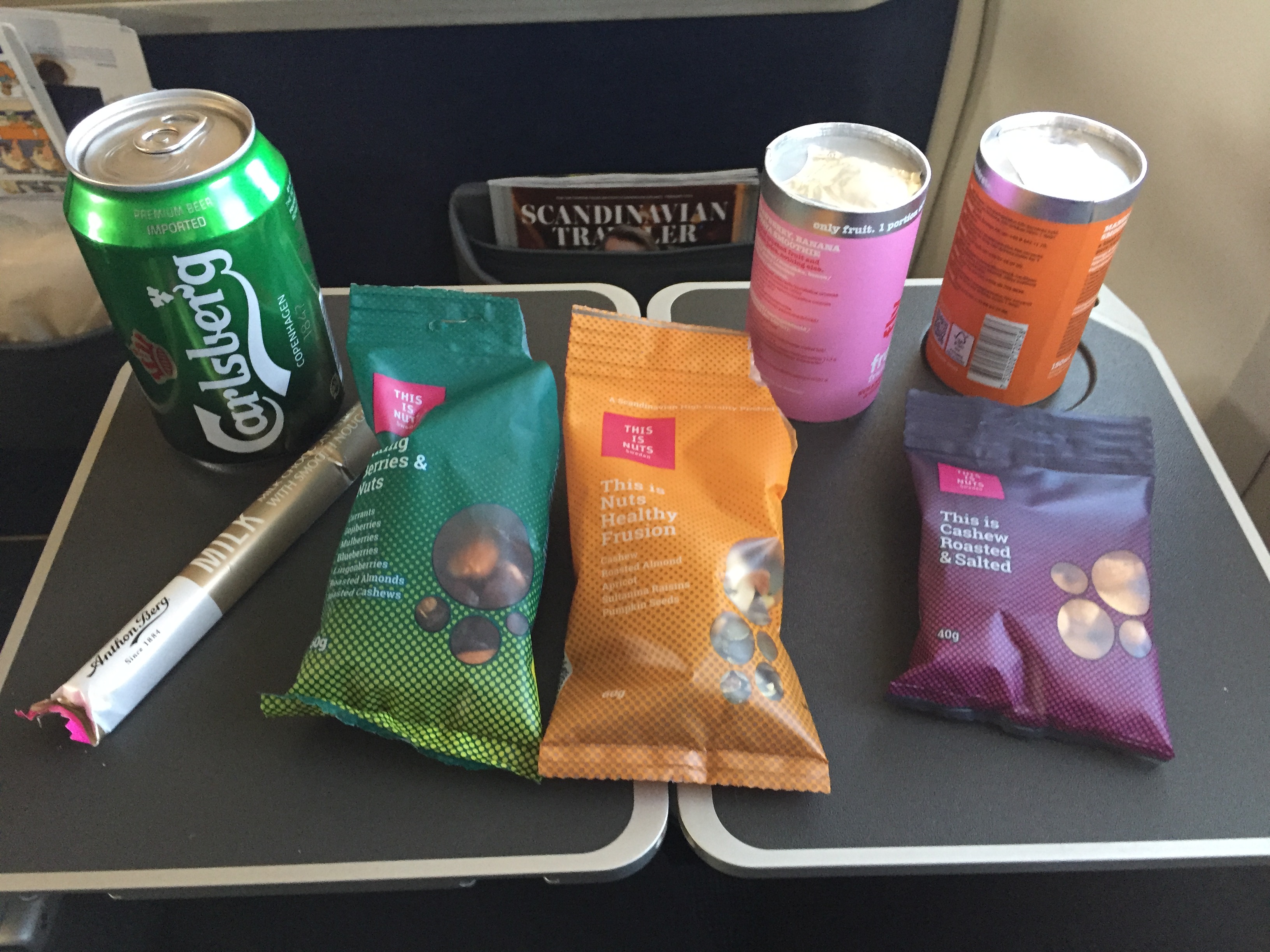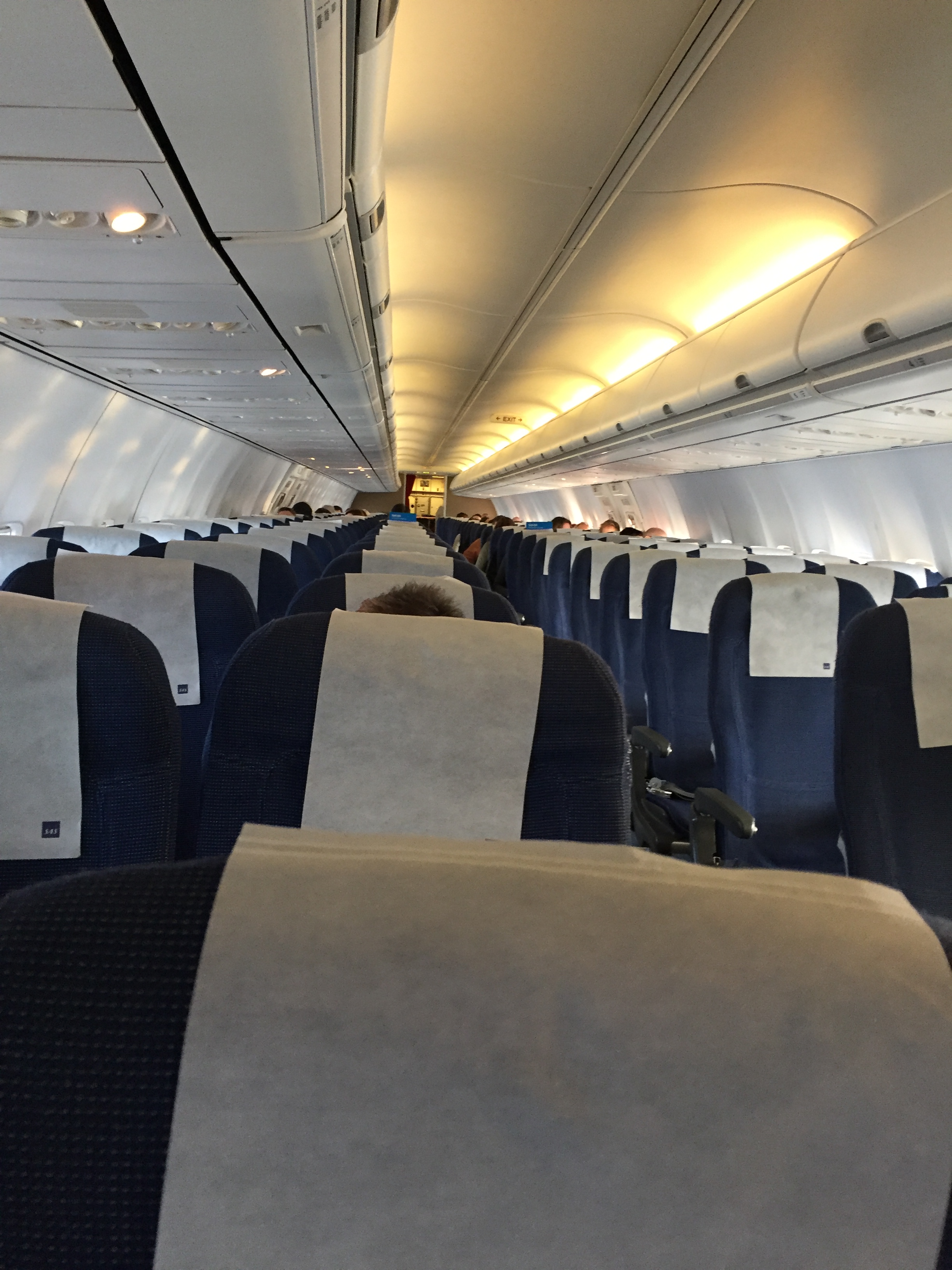 We landed in time on Oslo Gardermoen airport and walked to the next gate where our second flight would take off one hour later toward Trondheim. Luckily there was a SAS lounge close to our gate 13 in the domestic terminal. So we went there to see if they had some food. They didnt. 🙁 They just had some chips and fruit. So we took a beer instead 🙂 Even less food than the lounge in Stockholm. The lounge was much smaller than the one in Stockholm and it was much more people. It was a bit hard to find somewhere to sit. But after a while we got a table. Wifi was not working in this lounge during our stay there. I rate this smaller SAS lounge 2/5.
Here are some pictures of the lounge in Oslo domestic terminal.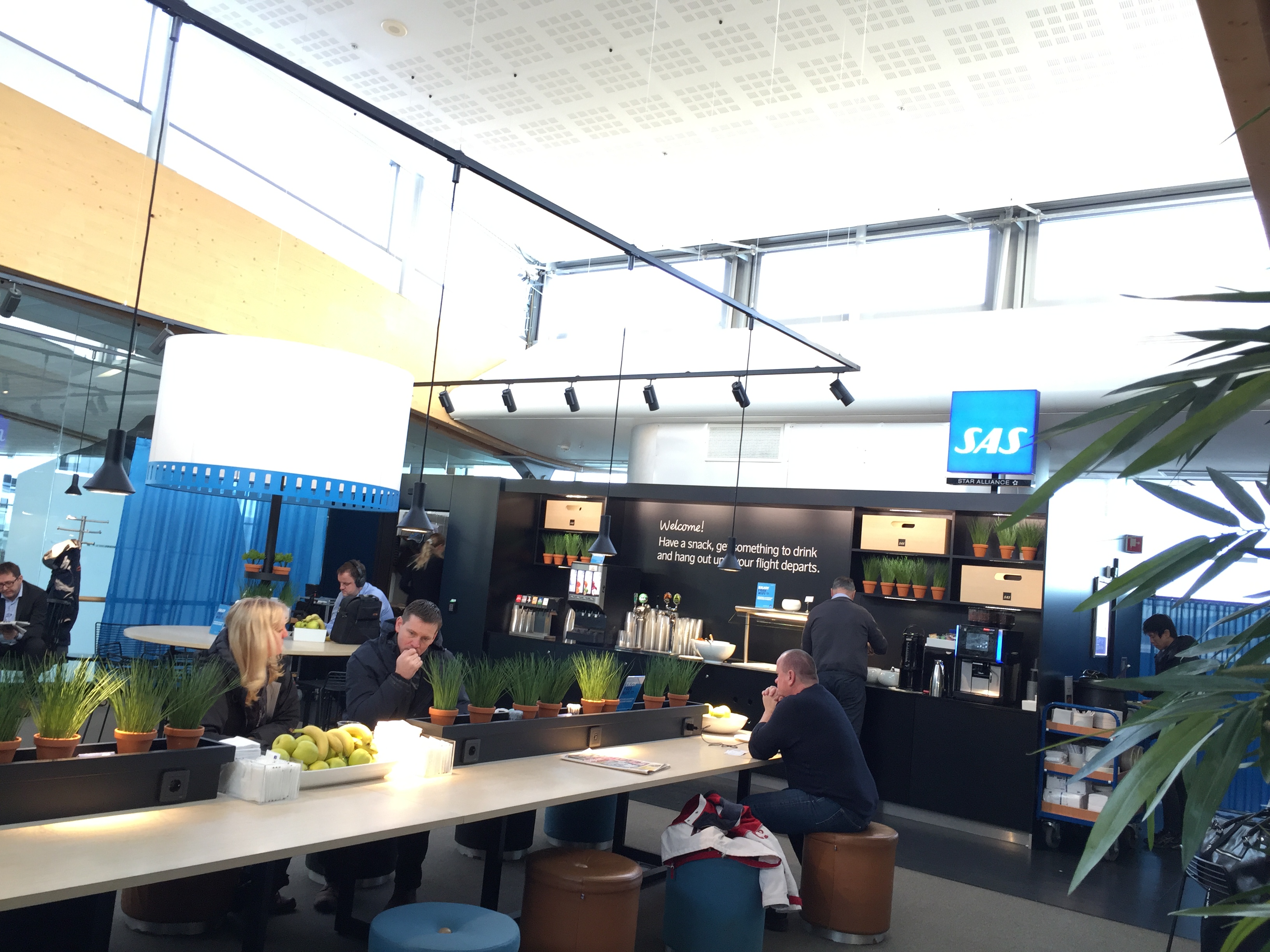 After 20 minutes it was time to board the next airplane that would take us to Trondheim. This flight was also just one hour. I had reserved the first row on this plane as well. So I used the leg space as much as possible 🙂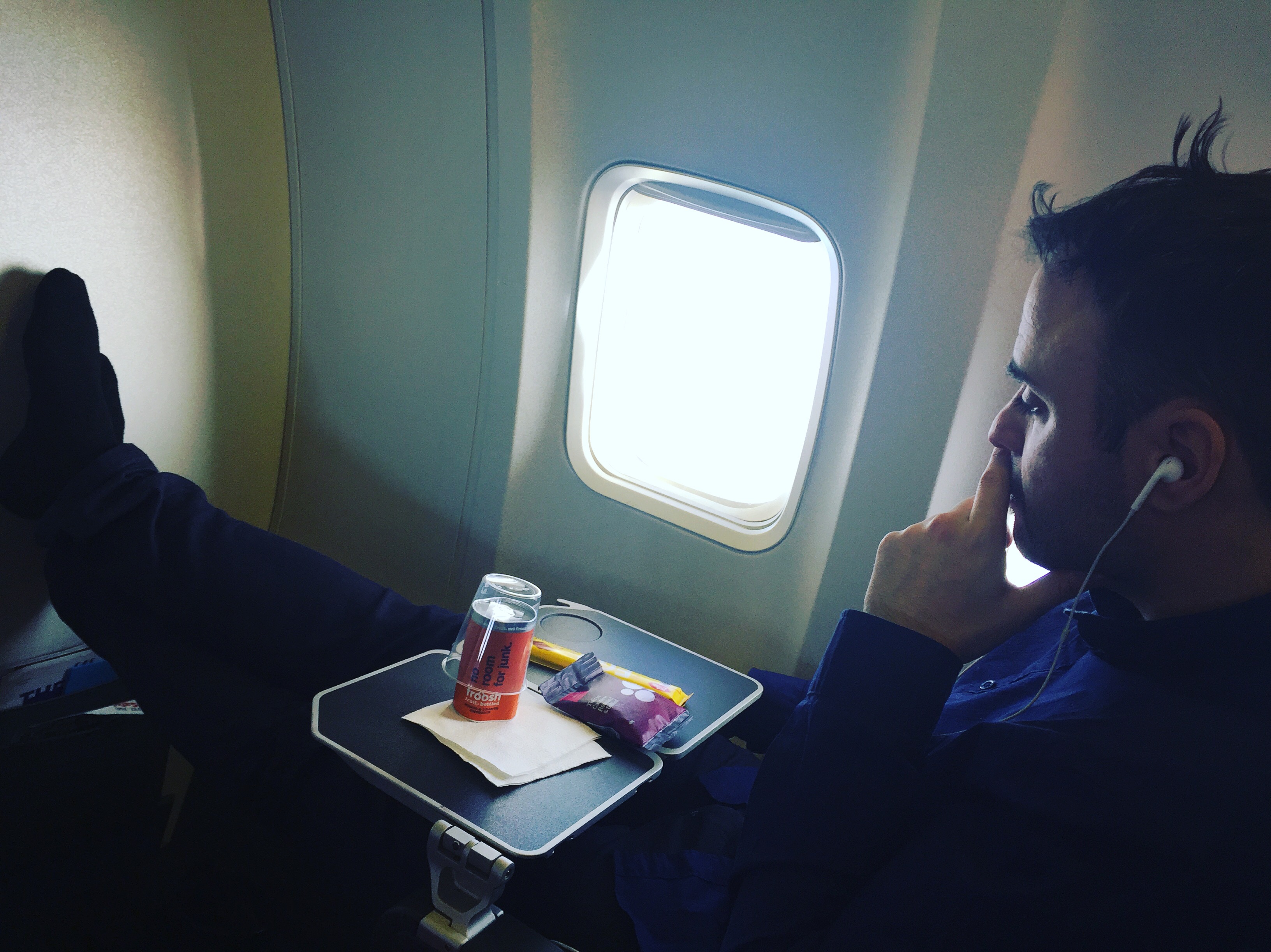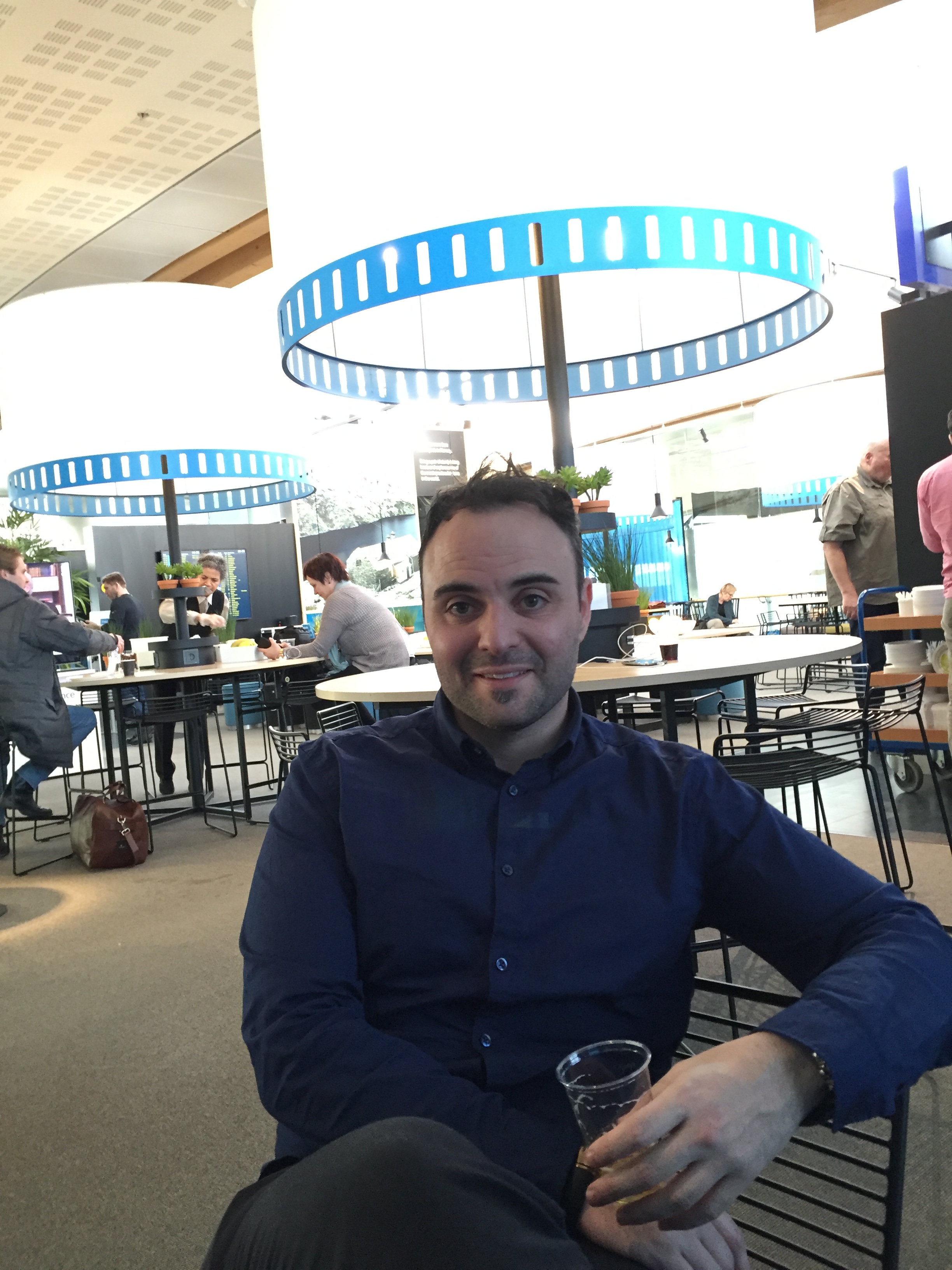 The snack menu is exactly the same as the previous flight and is exactly the same on all our six flights. A bit boring but works fine on this short flights.
Now we are getting close to Trondheim and its time to end our second flight.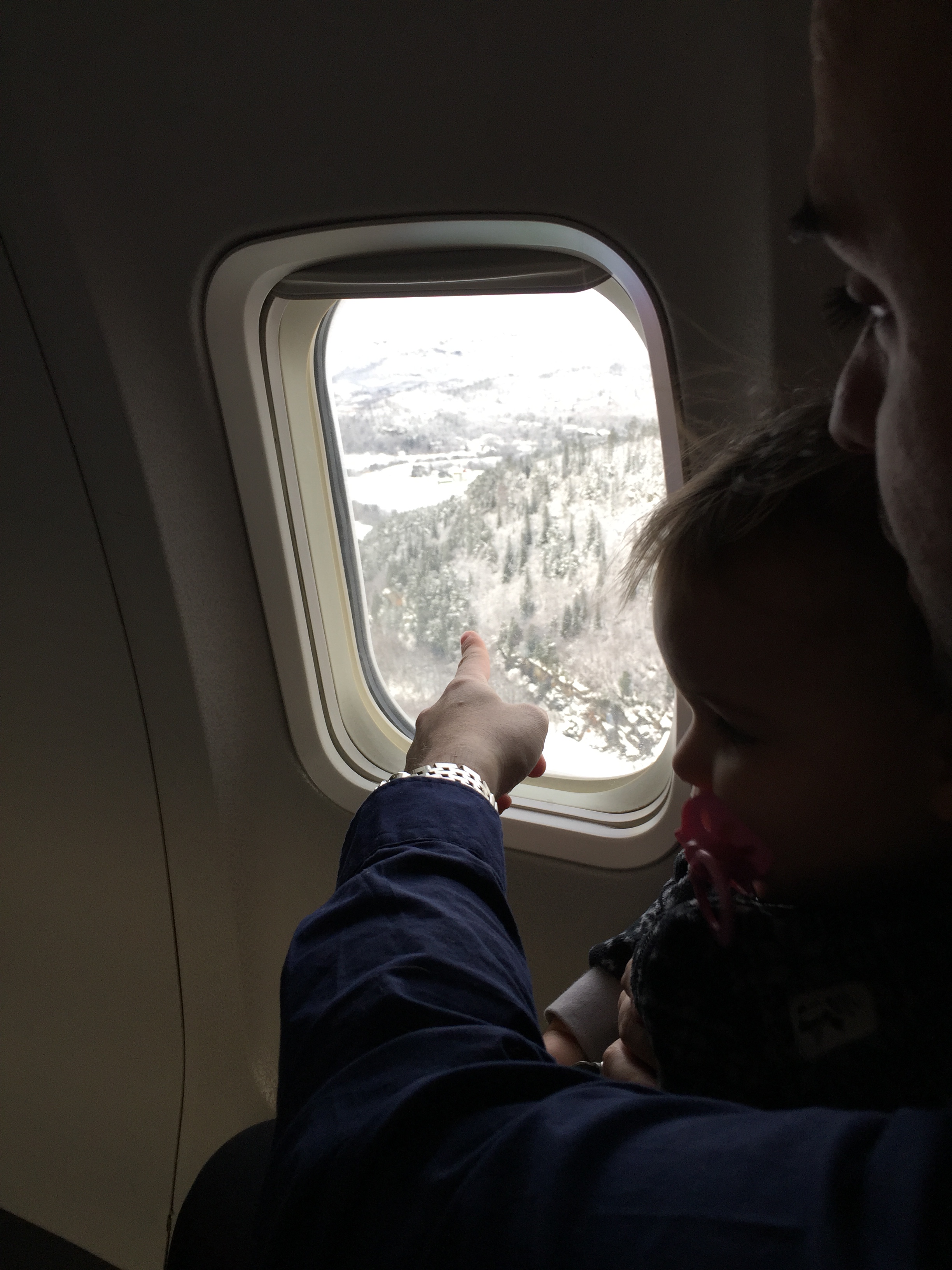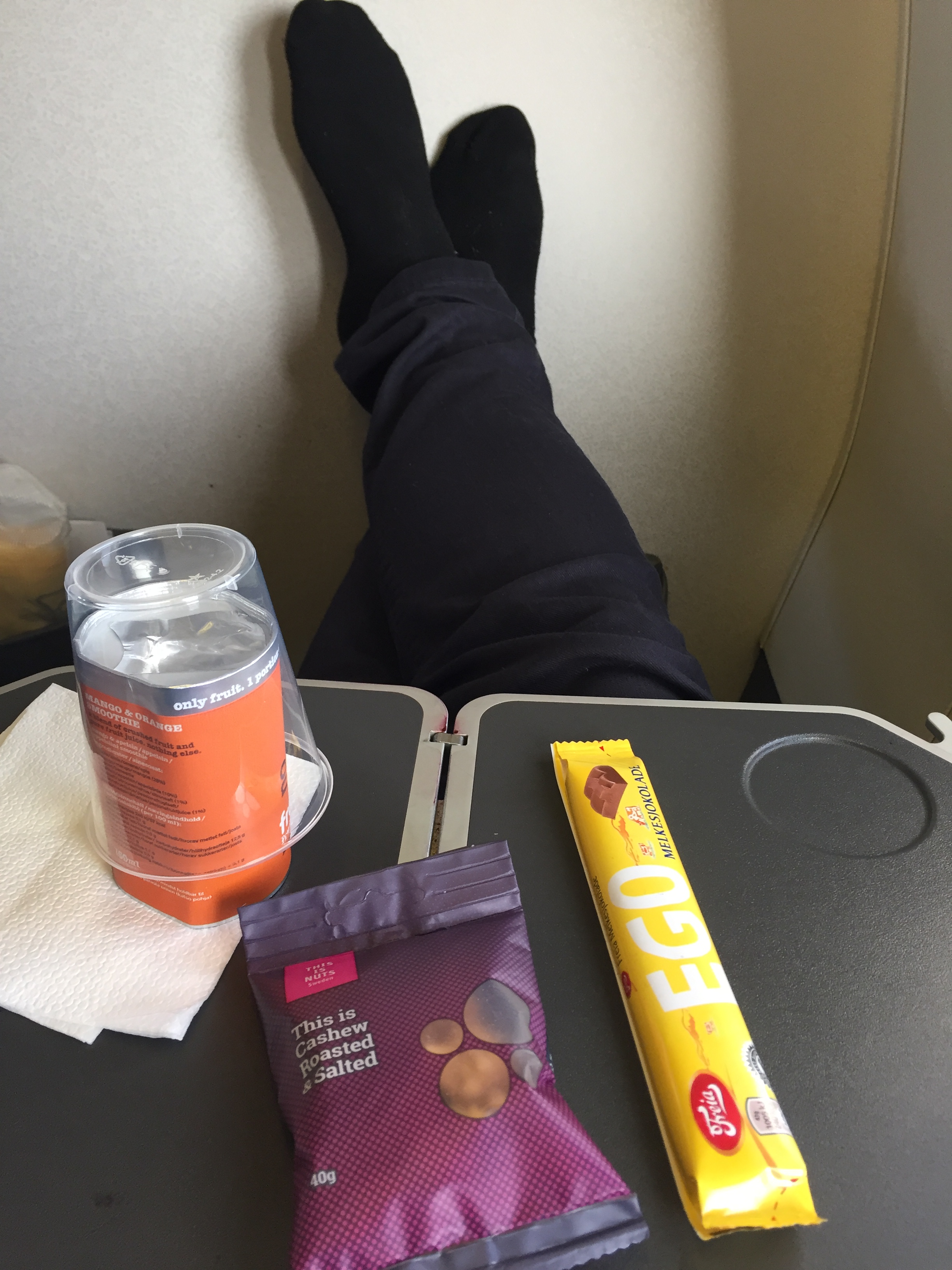 Trondheim has such a beautiful landscape seeing from the plane.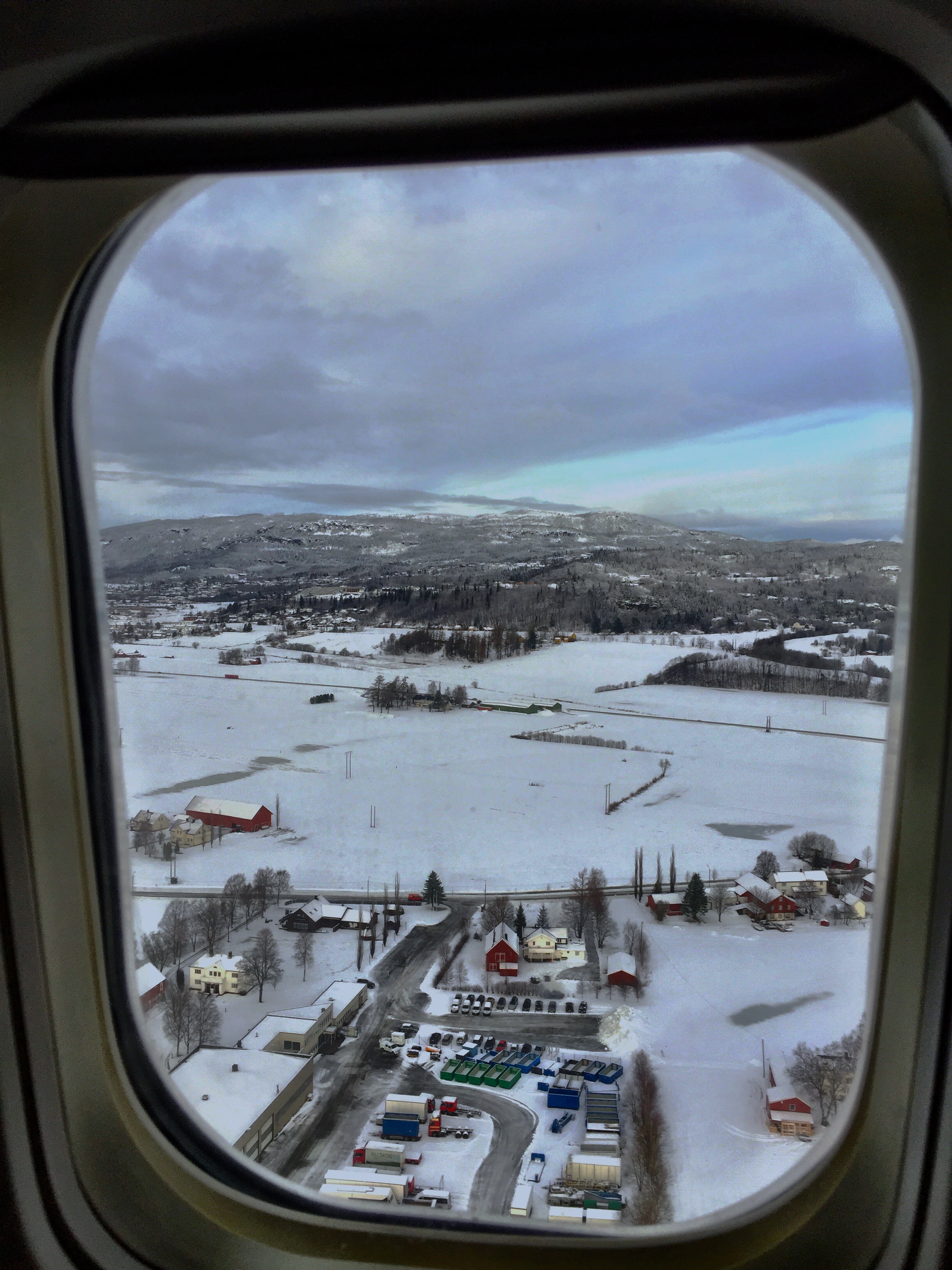 We had a bit more time in Trondheim than in Oslo. One and a half our felt luxury. Directly when we departed we saw a small SAS Café lounge right beside gate 30. This lounge just serve Coffee, tea, soft drinks, cookies and fruit.  We found some bigger sofas outside of the lounge so I spend more time with Nicole there then in lounge.  I rate it 1 of 5.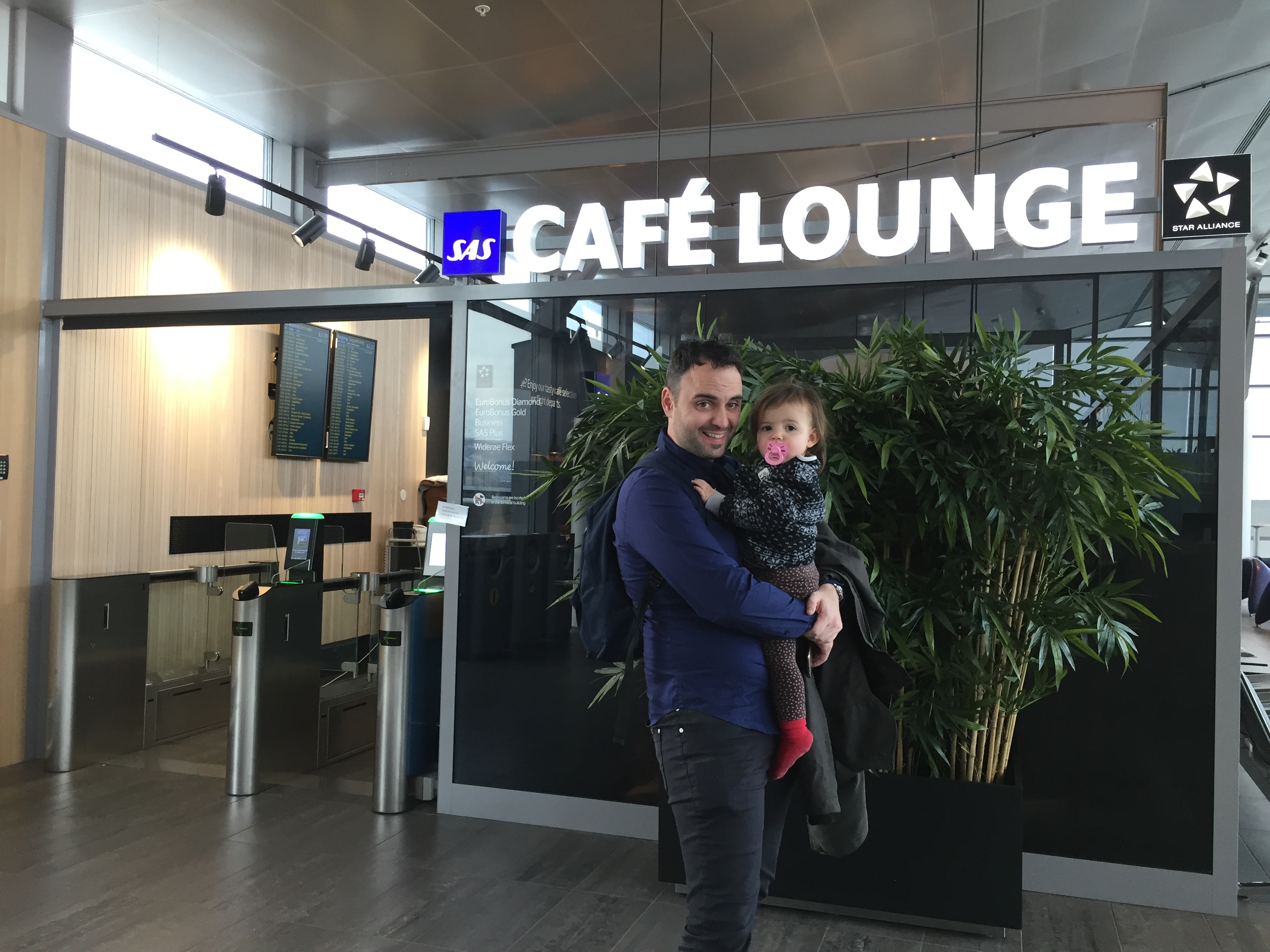 After a few minutes we headed to the gate and started to board the last flight of the day. This time the first row was taken so we needed to sit on row 3. It was ok, but I prefer row one.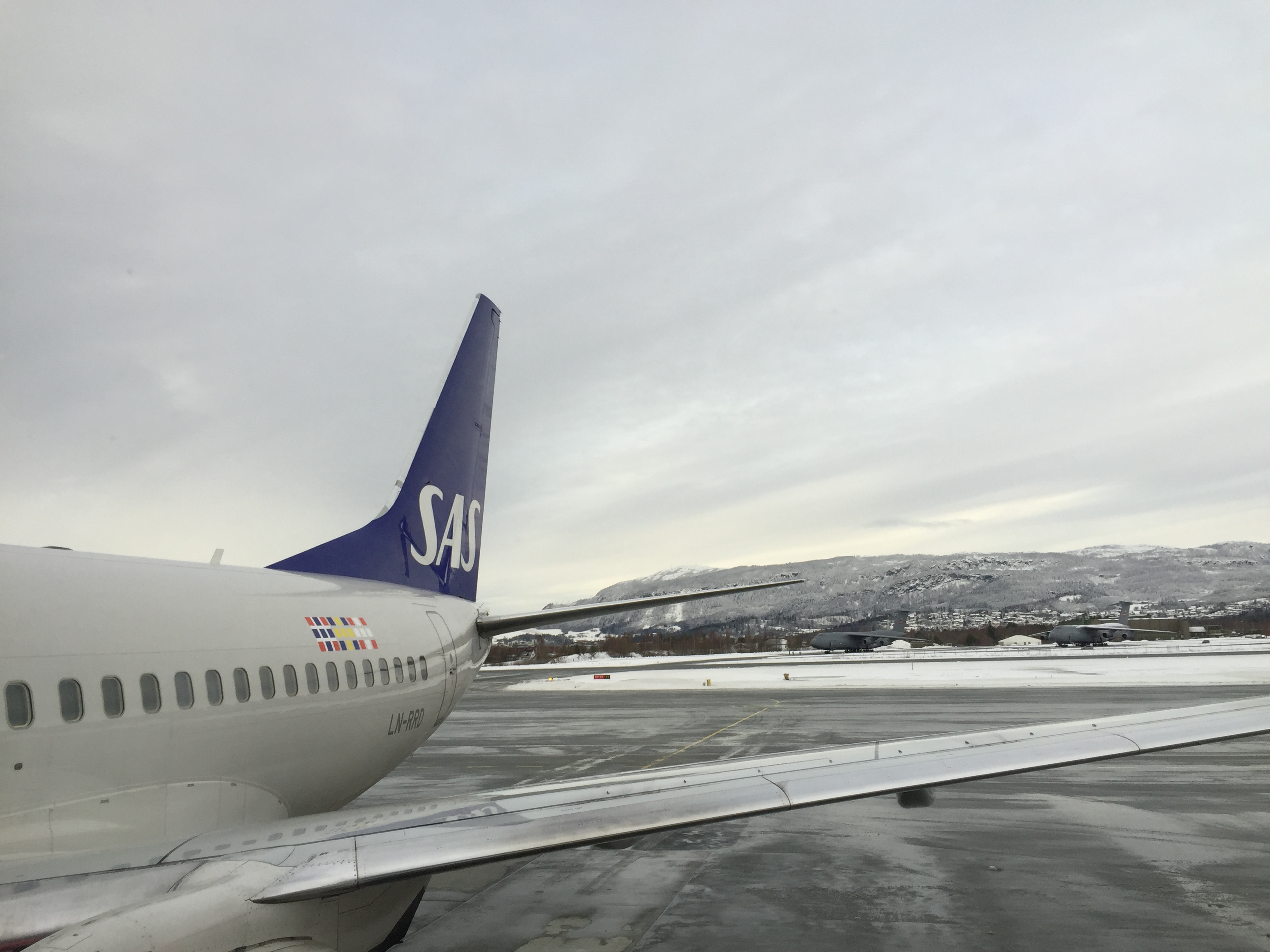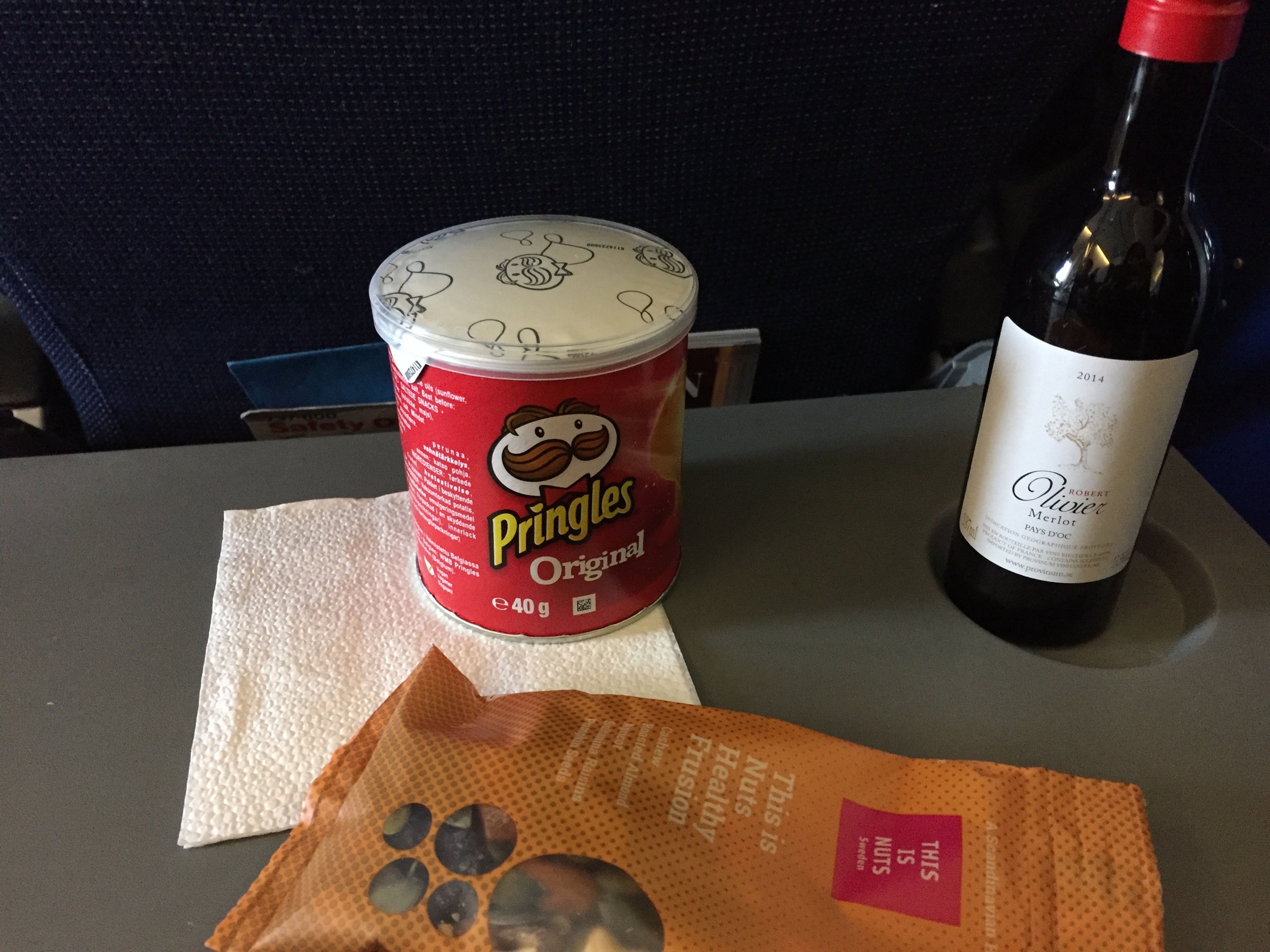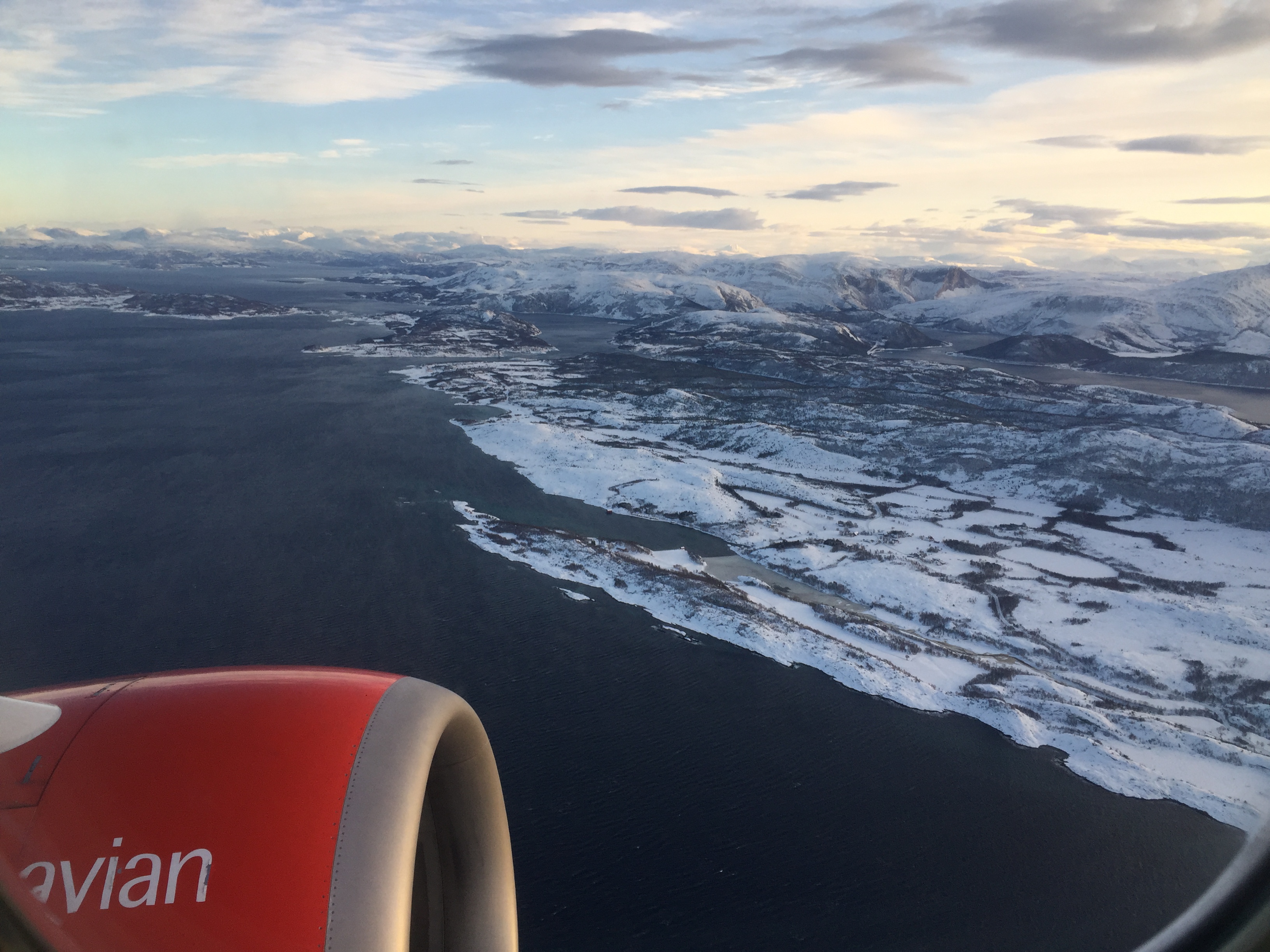 After this flight we where a bit tired of sitting.
The perfect thing with Bodö is that you can walk to the city center in 10-15 minutes from the airport. Yes, thats right! Walk to city center is just 10-15 minutes! 😀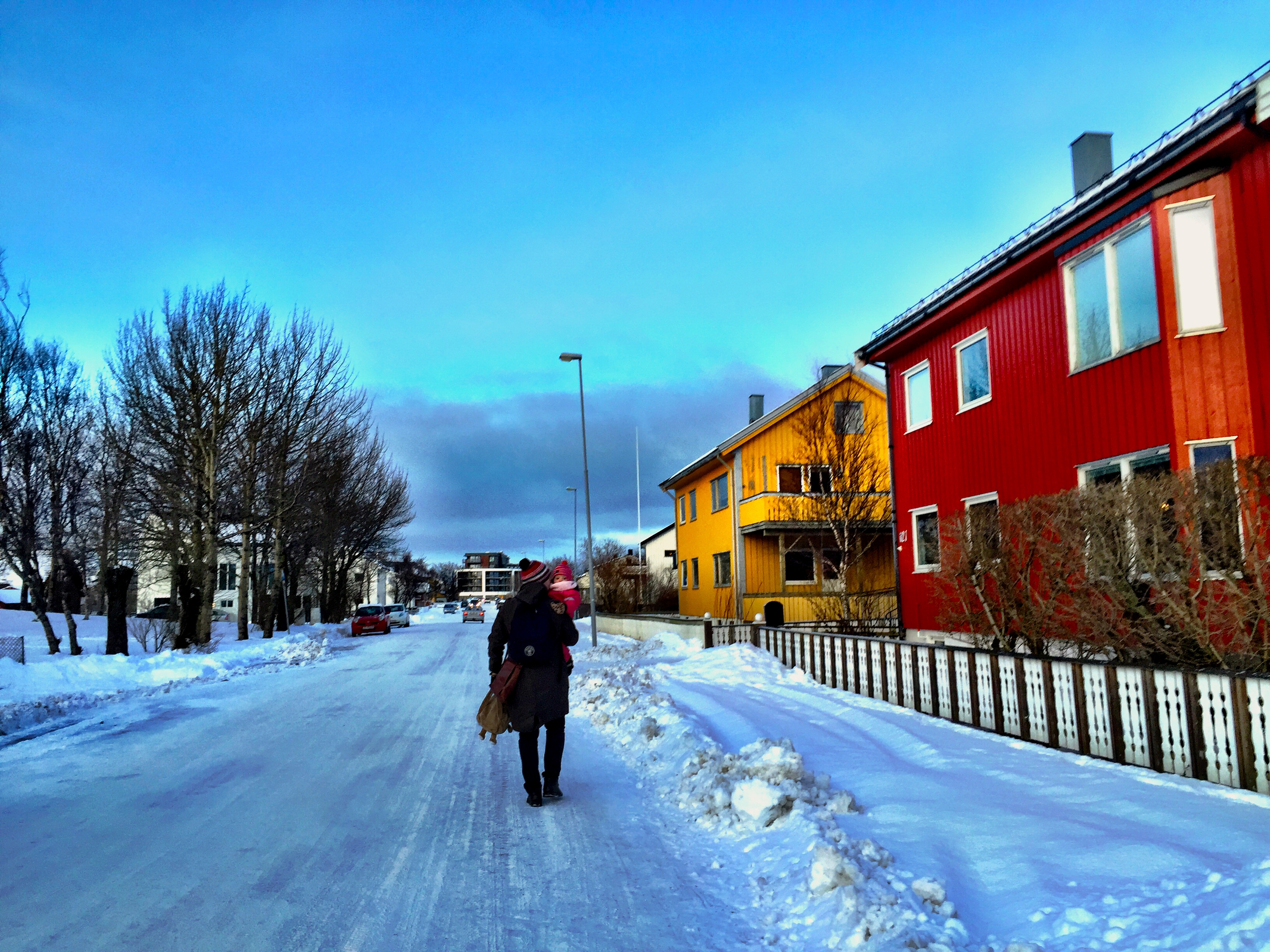 That was our travel day for our weekend trip in Bodö. Next post will be about the wonderful hotel we stayed in, Scandic Havet.
Stay tuned!